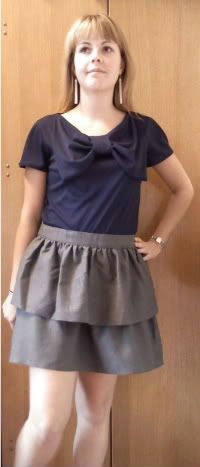 Finished! The skirt doesn't really fit that well but I totally love the top. I made the skirt out of an old pair of men's slacks, and I made the top from some cheap jersey knit I got on clearance. I guess I don't have much else to say about it except that I'm glad I got it finished. Thanks everybody who encouraged me!
So, I'm thinking for October I might try making some pants, seeing as the weather's been in the 40's and 50's all week and they still haven't turned on the heat in my dorm. I'm wearing gloves and a jacket as I type this, shivering. So yeah, skirts and dresses don't sound all that appealing right now. I've never made pants before. I'm kinda scared but kinda excited. It might be a little too ambitious of me, but I guess the whole point of this blog is to challenge myself to try new things, especially if I'm scared of screwing up.
Wow, that picture looks really bad on my blog. Yuck. The colors and the lighting and the angle just look so amateur and out of place. I need to start taking better photos for this thing. Ew it just hurts my eyes with the tan against the grey background. So sorry about that. ick.