Well, I saw "Julie & Julia" last week. If you've been reading my blog, you might know that it was the trailer for that film which inspired me to do my own blog challenge with sewing. And if you've been reading my blog, then you might know that I've failed at that challenge. It definitely added an extra level of understanding to the film. How the hell did Julie keep that up for a year??? Haha. Then I started thinking about our differences and similarities. The main difference is that I never told anyone I know that I was trying to do this. I just started doing it. Maybe I should have mentioned it to my friends and family or something, so I could have their support and understanding. I guess I thought I could handle it on my own. Plus, I wanted to be able to discuss my personal life without worrying about making myself vulnerable to people who are actually involved in my personal life, if that makes sense. Even though I rarely even discuss my personal life. So I think this fall I will try to let people know what I'm working on.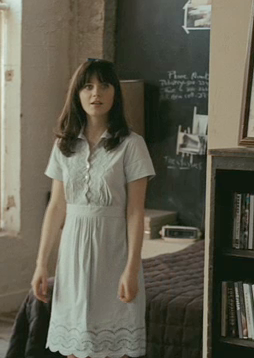 Also, I know I keep changing the rules, but I want to change my challenge to making
one outfit per month
instead of an outfit a week or a garment a week. I don't want to stress myself out too much, and I definitely don't want to get discouraged and give up like I did this summer. I also need deadlines. So, I'm going to vow to
update every Sunday
on my progress, even if I haven't made any progress. And I vow to
post pictures of the final outfit by the last day of every month
. I also want to start taking better pictures instead of just standing in front of a door and rigging the timer on my cell phone camera. I know it's not as impressive as the Julie & Julia project, but I have no delusions of grandeur, no dreams of a book deal or movie deal. My aspirations for this project are pretty simple. Self-fulfillment. I want to accomplish something personal that I can be proud of. I want to inspire others to make their own clothes and to pursue their hobbies and perfect their craft. And, of course, I want to make a bunch of fabulous outfits for myself.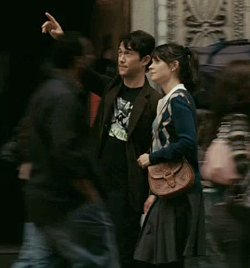 Changing the subject here, I also saw "500 Days of Summer" last week. I saw the first matinee show on the day it released here. I guess I couldn't wait. It's such a sweet movie. Not only is it a lovely little film, it also had a lot of designing inspiration for me. I especially love the color palette, all neutrals paired with shades of blue. The vintage elements are inspiring too. They give the outfits a quaint, classic feel without seeming old, nostalgic or outdated. Mmmmm. Just give me that blue dress with the scalloped hem and that light brown shoulder bag. I kinda want to emulate that simple, quaint, classic look in my designs and in my style. I have some blue fabrics that I'm going to play around with this week. I also just found two pairs of cute, oxford style shoes. Heels on ebay and flats at goodwill. Both real leather. Score. I don't know why this particular style appeals to me so much. Maybe it's because the look is kinda student-ish and I'm going into my senior year of college. Maybe it's because people keep telling me I look like a blonde Zooey Deschanel. Or maybe it's just because I look fantastic in blue. Regardless, you might be seeing some cardigans, skirts and dresses in neutrals and blues on my site this fall.