ABSTRACT: My objective is to prove that the following formula is true:
black + white + buttons = classy-as-hell
Perhaps it is the allusion to classic black and white art photography. Or perhaps it is the polite nod to the ultimate in classy formal attire: the tuxedo. Whatever the underlying cause, black and white clothing just radiates elegance. Add some buttons to the mix and you've got instant classy.
Figure I: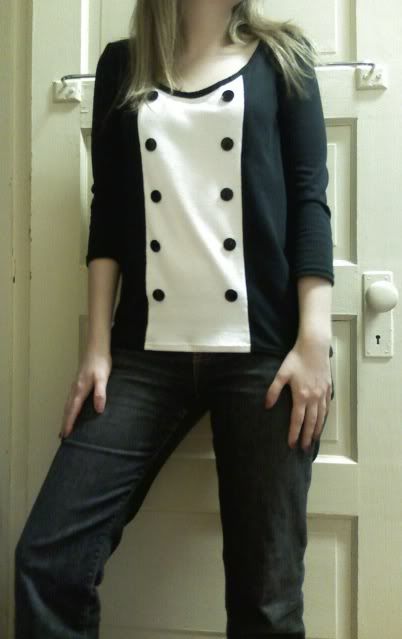 I made this classy-as-hell top out of plain old t-shirt jersey knit. Boring right? But since I used black and white fabric and adorned it with buttons... tada. Classic.
Figure II:
I made this classy-as-hell dress for a semi-formal dinner. Since I have no money, I had to make this out of
fabric that I already owned.
Yikes. Plain cotton plus cheap poly satin would normally end up an ugly mess, but, well, you get it by now:
black + white + buttons = classy-as-hell
Disclaimer: The classy-as-hell formula, like all fashion formulas, becomes null when used with shoulder pads, skorts, white pleather pants and crocs. Sorry, but these items can never be classy-as-hell.