So a little while ago I started watching old episodes of Firefly online. I got instantly hooked and basically watched the entire series in about four or five days. Naturally, I felt like a lazy bum just sitting at my computer watching an old tv show for hours on end, so I had to find something to keep my hands busy. I settled on jewelry-making, and that, dear reader, is how these bracelets came to be.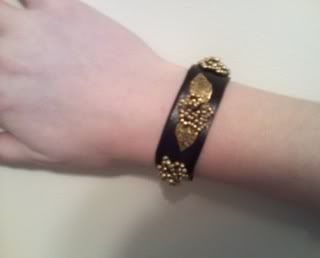 This is my favorite. I cut up an ugly old purse to make the leather strap. Then I made some roses by sewing gold beads to a small felt circle base, which i then sewed onto the strap. it closes with two snaps and looks super sexy.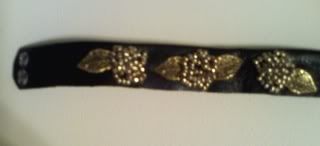 I already mentioned this one in my post about the grey top, but I thought I'd give a close up. I copied it from a bracelet I saw at freepeople.com for $118. Yikes. here's a link to the picture--
expensive bracelet
and here's a pic of the one I made...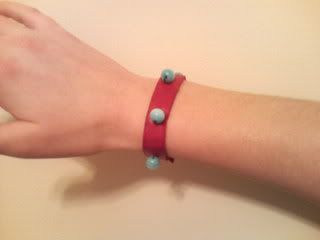 There really isn't much difference between the two. Except that mine didn't cost me a cent. For the strap, I used the leftover scraps of leather from a purse I reconstructed. Then I just sewed on some beads that I already had. Do people actually pay $118 for this? Wow.